H2S or Hydrogen Sulfide is a life threatening gas that is created in many industrial settings. Each company that works with H2S is required to train their workers about the hazards that accompany this gas and the strategies and equipment that are used to protect workers.
The Canadian oil and gas industry has developed in co-operation with all it's members a comprehensive one day training course which gives students the base industry information needed to effectively apply other practices and procedures they will encounter in the energy industry. This course is an industry prerequisite for most oil and gas work.
H2S Alive is the oil and gas industries governing body that sets out who teaches this course and how it is presented – don't be fooled by online knock-off's this training must be taken in class by a certified instructor.
All students must present a government issued photo id.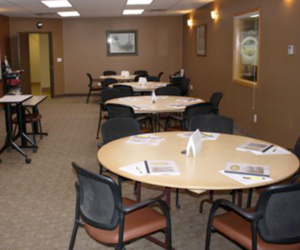 Due to the importance of the learning H2S Alive puts strict guidelines on how it is presented. H2S Alive requires that the classroom be no less than 500 sq ft in size, Trinity's classroom is 800 sq ft. H2S Alive requires that there be at least 1 air pack for each 5 students, Trinity has 1 air pack per 3 students. The classroom is bright, quiet and climate controlled. Large white board, big screen TV, fresh coffee and comfortable chairs are all a part of each student's learning experience.
The breathing apparatus's used at Trinity Safety are built by the Mine Safe Appliance Co. (MSA) This is the equipment of choice for most western Canadian oil, gas, and mining companies.
Each student will be supplied with their own mask and all the masks are cleaned after each use as per manufacturer's specifications.
Electronic monitors are fully functional and are function tested during each course. All the equipment used during training is equipment that students will see in the field; no foam replicas.