FALL PROTECTION – ENERGY SAFETY CANADA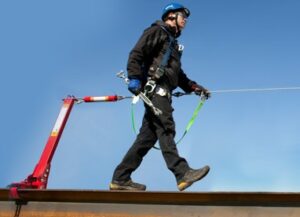 Engage in hands-on training and learn protection methods for preventing falls.  It is designed for workers who need basic fall protection training to work in areas with potential fall hazards.
Topics include:
Fall protection concepts
Legislation and regulations
Safety measures and best practices
Identifying and assessing fall hazards
Fall arrest systems and equipment
Protection planning
Effects of a fall and rescue planning
Participants will engage in hands-on training activities, including inspecting, fitting, adjusting and connecting fall protection systems and components.
Upon course completion, students will have the ability to assess and evaluate fall arrest systems, and to develop and implement fall protection plans.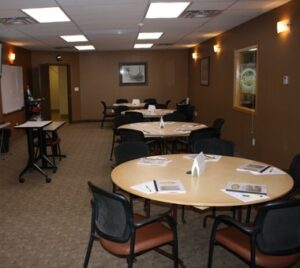 The classroom setting for fall protection is very learner friendly, not a bad seat in the room. Each student is able to view an extensive display of fall protection gear during the class and the instructor is able to demonstrate use in person as well as on the big screen TV. The classroom has ample space for the practical portions of the course like equipment inspections and putting on the harness.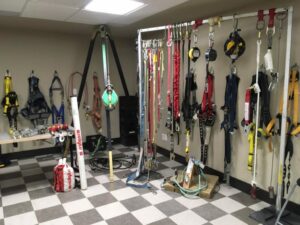 The fall protection equipment that students will use and see at Trinity Safety is current, relevant and functional. Participants will use equipment in class that they will see at work and will also see each one of those in a damaged or worn condition and be shown proper and improper connections of each.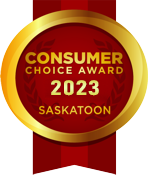 For more information on the next course date: