"To deliver effective safety training, which inspires confidence, and equips people for sustainable employment"
Competency: We will accomplish all we do with integrity, ensuring safety, skill, effectiveness and personal growth as constant pursuits
Reliability: We will strive for optimal use of time & resources, providing our clients with organized, efficient access to all scheduled programming
Relationships: We will conduct all efforts with respect and appreciation for the intrinsic value of each human life
Atmosphere: We will deliver all training and instruction within a fun environment which stimulates comprehension and retention
Message from the President
Hello, my name is David Chalmers. I am the president and General Manager of Trinity Safety & Training, and welcome to our new website. We are very excited to make your online experience smooth and convenient. With online registration and more classes, Trinity Safety makes safety training easier than ever to accomplish.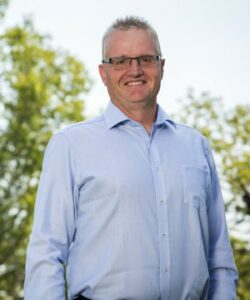 On behalf of myself and our amazing team here at Trinity Safety & Training, I would like to extend a warm welcome to you, our valued customer. Our commitment is to conduct ourselves with integrity and offer quality programs that will equip our customers for life on and off the job site.
We believe education is the key to equipping workers with the knowledge and skills necessary to reduce risk levels to an acceptable level in every workplace, and that is precisely what we do here at Trinity. We all know of someone who has had the best years of their lives shattered by an unsafe act or unsafe condition that occurred either at work or at leisure.
Our hope is that you will take our training with you wherever you go after you leave our facility. From that ski vacation in the Rockies to that tropical vacation on the equator and everything in between. What you learn from us will bring value to every part of your life, and all of us at Trinity Safety consider safety to be A WAY OF LIFE, and that is where our slogan, "Equipped For Life," is rooted.
We equip our clients to identify the conditions and acts that create an unnecessarily high risk of injury or harm, and we share our knowledge with them to find ways to minimize the exposure to that risk. With that in mind, we are confident that we can reduce incidents and improve the lives of not only front-line workers but all who are associated with those workers, including families and friends. We are proud supporters of our community and work with many not-for-profit organizations to ensure they have the tools they need to function safely.
We are also a proud supporter of WorkSafe Saskatchewan and the Mission Zero initiative.
We look forward to Equipping you for Life at one of our training centers in the near future.
Yours Truly,
David Chalmers